Soda Making at Home
How to Make Homemade Strawberry Soda
Homemade soda making at home has become very popular lately but I have been making soda at home for many years. It's not hard to do. If you can boil water you can make your own homemade soda.
Soda syrup is nothing more than a simple syrup flavored with whatever you would like your soda flavor to be.
I have to tell you that I have tried writing this post so many times. I must have made at least 4 or more batches of strawberry soda syrup but never got around to taking pictures before all my flavored syrup was gone. I really can't help myself from drinking it because it tastes so good.
Homemade soda only has two ingredients. One is the flavored simple syrup. The other is club soda or seltzer. I do not like the taste of selzer so I use club soda or carbonated water made with a SodaStream.
Last year I wrote a review of the SodaStream. I still have it and still use it almost every time I make homemade soda. If I had more space in my kitchen to keep the SodaStream in a convenient location I would use it more often.
Almost all fruits, berries and many herbs can be turned into a simple syrup to be made into soda. One of my favorite flavors of soda is a Lemon Basil Soda.
Some homemade soda flavors I have made over the years:
Blackberry Soda

Strawberry Soda

Vanilla Soda aka Cream Soda

Ginger Soda

Lemon Basil Soda

Cinnamon Basil Soda

Lemon Verbena Soda
This recipe will make a full quart of strawberry simple syrup. You can divide the recipe in half if you feel that will be too much. I usually make a smaller batch but this time I wanted to make sure there would be enough around till I had a chance to take a photo.
You can also use the strawberry syrup to make Strawberry Ice Tea.
To make the strawberry simple syrup you will need 3 cups of strawberries, washed and hulled, 1 1/2 cup sugar , 1 1/2 cups water.I also added the juice of one lemon. The lemon juice isn't required but I like to add it because it helps keep the berries bright.
The full recipe in the Ziplist format is below.
Add the water and sugar to a medium sized pot. Heat on medium high until sugar is dissolved.
Add the strawberries and lemon juice if using to the pot and reduce the temperature. Gently boil the strawberries for about 20 minutes. after the first 10 minutes carefully use a potato masher to smash the softened berries.  Remove from the heat after 10 more minutes of cooking and allow to cool.
Strain the strawberry solids from the simple syrup with a fine mesh strainer. This recipe makes a full quart of strawberry simple syrup. Store it in a quart mason jar in the refrigerator.
To make a glass of strawberry soda fill a glass with ice and add about 1/4 cup of the strawberry simple syrup over the ice. Fill the glass with club soda, seltzer or carbonated water. Add a slice of lemon and enjoy.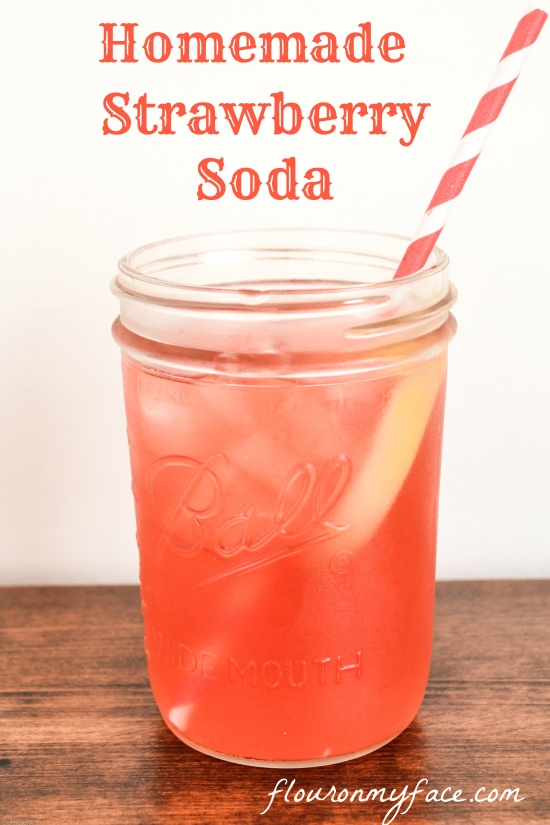 Ingredients
3 cups washed and hulled sliced strawberries
1 1/2 cup sugar
1 1/2 cup water
1 lemon (optional)
Instructions
To Make a Strawberry Simple Syrup

Gently boil the sugar and water until sugar is dissolved and sugar water is clear.
Add the strawberries and simmer for 10 minutes.
Mash the strawberries with a potato masher.
Cook 10 more minutes.
Remove from heat and cool.
Strain through a fine mesh strainer to remove the solids.
Pour the strawberry syrup into a quart jar for storage.

To Make a glass of Strawberry Soda

Fill a glass with ice.
Add 1/4 cup of strawberry simple syrup to the glass.
Fill the glass with club soda.
Add a slice of lemon and enjoy.
Notes
Strawberry simple syrup can be used to make Strawberry Iced Tea
http://www.flouronmyface.com/2013/06/soda-making-at-home.html
www.flouronmyface.com
This recipe has been featured!