International Delight
Skinny Salted Caramel Mocha
Frappuccino
#LightIcedCoffee
Are you an iced coffee lover like I am? I am addicted to that stuff. I make and drink it all year-long.
 Every once in a while when I am out I will buy one. The prices are outrageous for a blended coffee-house iced coffee drink and for some reason even if I order the same Frappuccino 5 times in a row they never taste the same.
Well I stay home more than I go out so I like to create my own knock off or copycat recipe of those very expensive iced coffee-house drinks at home. This way I am saving some major money and I can get a consistent flavor every time.
International Delight has come out with a skinny or light version of their sweet and creamy Iced Coffee. I picked some up over the weekend while I was shopping at Walmart.
The Vanilla and Mocha flavors are now available in a light version that has 1/3 less the calories.
So if you are keeping an eye on the calories and your pocket book you can still enjoy a great coffee house iced coffee at home.
International Delight Iced coffee and I have been friends for a while now. Last summer I enjoyed coming up with a couple of other rich and creamy iced coffee drinks at home.
The  Mocha Caramel Macchiato Shooters I came up with last summer was a big hit with friends and family. I served them a number of times at get  together's. You could also skinny that recipe up by replacing the regular International Delight Mocha Iced Coffee with the new lighter versions.
To make this light or skinny version of a Salted Caramel Mocha Frappuccino with International Delight Light Iced Coffee  you will need
International Delight Light Mocha Iced Coffee

International Delight Salted Caramel Coffee Creamer

No Fat Reddi Whip

a tiny bit of a caramel topping for garnish, optional

a blender
You can find the entire recipe below the instructions in Ziplist form.
 A trick I learned to keep my homemade iced coffee from being  too watered down by adding ice cubes is to freeze a tray full of the International Delight Light Iced Coffee and use it instead of ice cubes made with water. Make a bunch in advance and keep them in your freezer. This way you still get that icy frappuccino with a rich and creamy flavor.
This recipe is so easy and if you keep a batch of the frozen iced coffee ice cubes in the freezer you can enjoy on anytime you like.
Measure the International Delight Light Mocha Iced Coffee into the blender, add 6 mocha ice cube, the creamer and blend in the blender.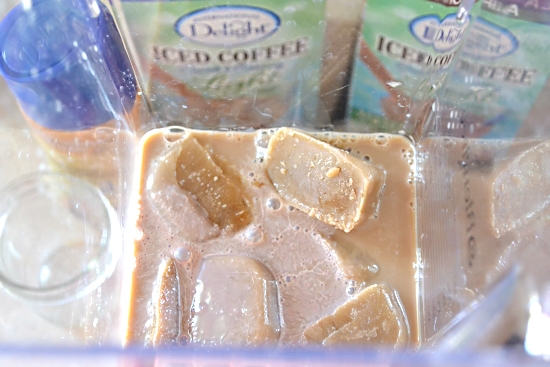 This recipe will make a single  16 ounce serving or two 8 ounce servings.
Use the crushed ice settings on your blender and blend until the ice cubes are completely crushed.
Pour the Salted Caramel Mocha Frappuccino in a glass, top with no fat Reddi Whip and add a drizzle of caramel if you like.
If you'd like  a coupon so you can save on your next purchase of International Delight Light Iced Coffee head over and register to print out a coupon.
Stay up to date by liking the International Delight Facebook page.
Follow International Delight  on Twitter and search the  #LightIcedCoffee hash tag to  see what other yummy International Delight Iced Coffee recipes have been created.
Disclosure:  I am a member of the Collective Bias®  Social Fabric® Community.  This shop has been compensated as part of a social shopper insights study for Collective Bias®  and WhiteWave #CBias #SocialFabric
International Delight Skinny Salted Caramel Mocha Frappuccino #LightIcedCoffee #Cbias
Makes one 16 ounce serving
Ingredients
1/2 cup International Delight Light Mocha Iced Coffee
6 International Delight Light Mocha Iced Coffee ice cubes
2 tablespoons International Delight Salted Caramel Coffee Creamer
Reddi Whip Fat Free
drizzle of caramel (optional)
Instructions
Measure the first 3 ingredients into a blender.
Blend on the crushed ice setting
Pour into a glass
Top with Reddi Whip
Drizzle with caramel
Notes
This skinny version has about 195 calories compared to Starbucks 420 calories for the same beverage.
http://www.flouronmyface.com/2013/02/international-delight-skinny-salted-caramel-mocha-frappuccino-lighticedcoffee-cbias.html
www.flouronmyface.com