Have you ever made your own pickles? I have been dreaming of making my own pickles for about a year now.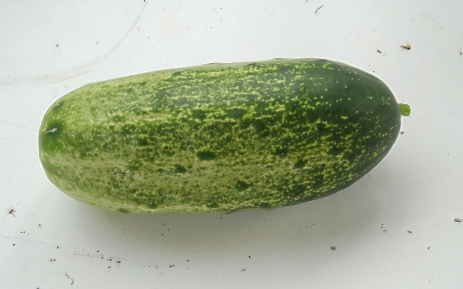 I planted some kirby cucumber plants and harvested a couple of small ones the other day. I only had three 
 but I was determined to try a recipe I found for refrigerator pickles on my favorite canning blog Food In Jars. I had to doctor up the original recipe a bit because I am having a hard time finding dill seed around here so I changed the spices. You can adjust the spices if you like.
I have to tell you I am blown away by how easy and how good these turned out. Here is the recipe I used. This makes 2 pints.
How To Make Refrigerator Dill Pickles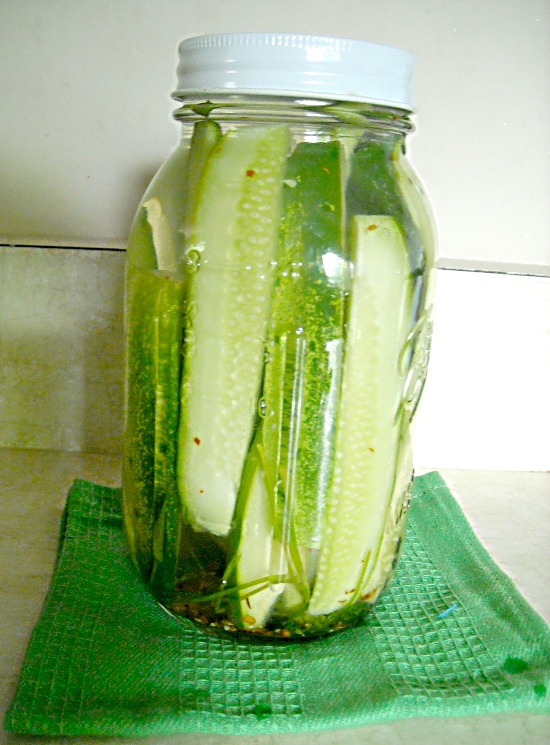 Ingredients
2 cups water
1 cup white vinegar
1 tbs pickling salt
2 whole garlic cloves, peeled
8 sprigs of dill
1 tsp pepper corns
1/2 tsp hot pepper flakes
Instructions
This makes 2 pints or 1 quart of pickles
Sterilize 2 pint jars + lids
Put 1 garlic clove into the bottom of each jar. Add 4 dill springs to each jar. Divide the pepper corns and hot pepper flakes between the two jars.
Wash and trim the ends of your cucumbers. Cut into thin rounds or spears and pack into the jars tightly.
To make the brine boil the water, vinegar and pickling salt.
.Pour the boiling brine into the jars over the cucumbers and put the lids on the jars.
Let cool on the counter and then refrigerate.
The pickles will be ready in about a week. I tasted mine after 4 days and they were awesome.
Please follow proper safety measures for food storage when canning or pickling!
http://www.flouronmyface.com/2011/07/how-to-make-refrigerator-dill-pickles.html
www.flouronmyface.com
 Since I didn't have enough cucumbers to fill 2 jars I packed the second jar with baby carrots I bought at the grocery store. I haven't tried them yet!
You jars will seal from the heat of the brine but these pickles are meant to be kept in the fridge not canned for future use.
Please follow proper safety measures for food storage when canning or pickling!